My Kid Is Not Crazy: A Search for Hope in the Face of Misdiagnosis
PANDAS Documentary by Tim Sorel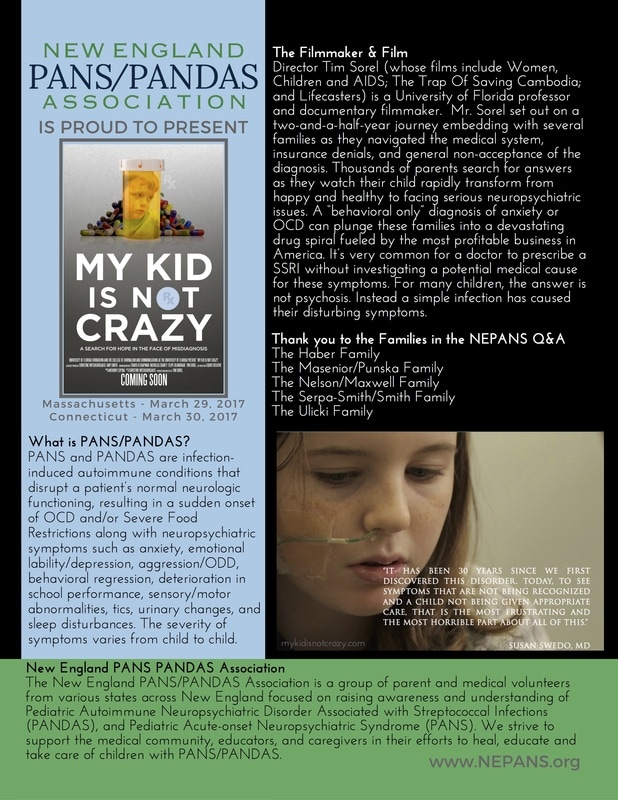 My Kid is Not Crazy: A Search for Hope in the Face of Misdiagnosis, a documentary film by Tim Sorel, tracks the journey of six children and their families as they become tangled in the nightmare of a medical system heavily influenced by the pharmaceutical industry. It is common for a doctor to prescribe a SSRI but hesitate to prescribe an antibiotic to counteract a potential infectious-based trigger.
Come see the stories of four families in New England, how they battled this disease and enlisted help from local doctors to treat this debilitating condition.
A NIH doctor puts her career on the line as she battles to save children with disabling mental illness. This film examines the controversy in diagnosing strep as causation of mental illness.
Kathryn was a normal, healthy child. She was a star student, athlete and dancer. In a matter of days, she became totally dysfunctional. Kathryn had alarming rapid-onset OCD; refusing to eat or drink.
Drew endured 11 years of misdiagnoses. From the age of 6, she was given more than a dozen psychiatric, anti-anxiety and anti-depressants. She was hospitalized for seven weeks in a psychiatric hospital. Her tenacious mother Tiffani fought continually to get her a correct diagnosis and appropriate care.