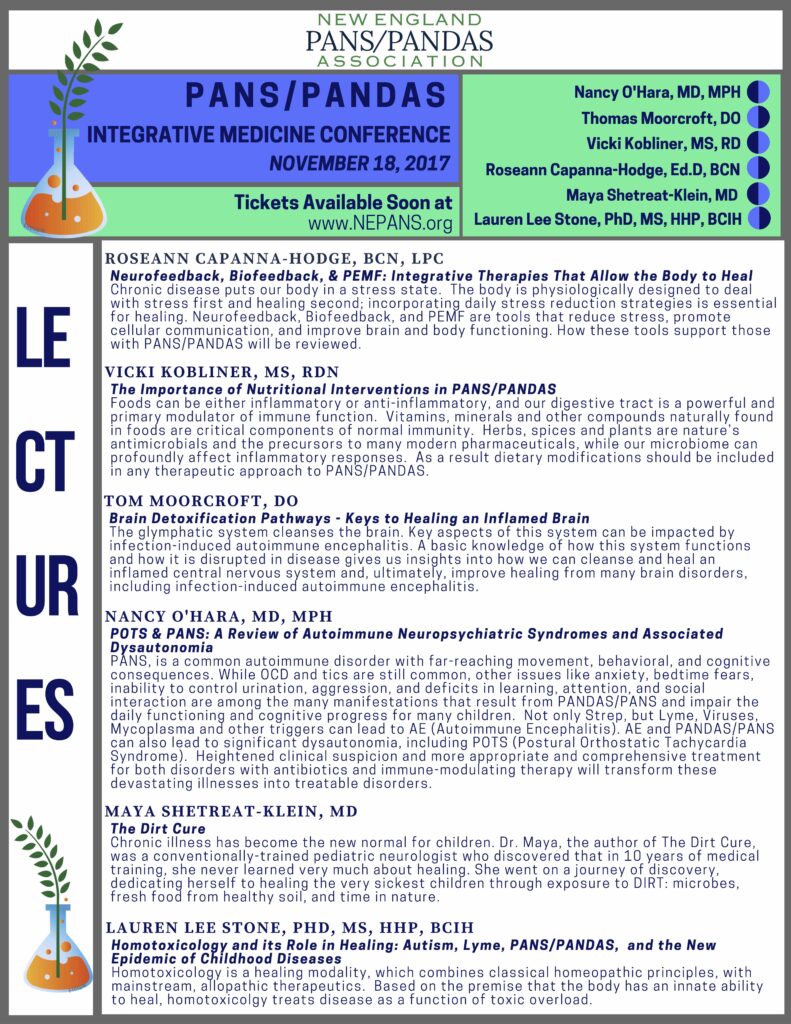 Saturday, November 18, 2017
Newtown, CT 06470

Speakers
Nancy O'Hara, MD, MPH
Tom Moorcroft, DO
Maya Shetreat-Klein, MD
Vicki Kobliner, MS, RDN
Roseann Capanna-Hodge, LPC, BCN
Lauren Lee Stone, PhD, MS, HHP, BCIH

Conference is partially underwritten by Margaret Chapman, PC.
---
Neurofeedback, Biofeedback, & PEMF: Integrative Therapies That Allow the Body to Heal
Roseann Capanna-Hodge, BCN, LPC
Chronic disease puts our body in a stress state. The body is physiologically designed to deal with stress first and healing second; incorporating daily stress reduction strategies is essential for healing. Neurofeedback, Biofeedback, and PEMF are tools that reduce stress, promote cellular communication, and improve brain and body functioning. How these tools support those with PANS/PANDAS will be reviewed.
The Importance of Nutritional Interventions in PANS/PANDAS
Vicki Kobliner, MS, RDN
Foods can be either inflammatory or anti-inflammatory, and our digestive tract is a powerful and primary modulator of immune function. Vitamins, minerals and other compounds naturally found in foods are critical components of normal immunity. Herbs, spices and plants are nature's antimicrobials and the precursors to many modern pharmaceuticals, while our microbiome can profoundly affect inflammatory responses. As a result dietary modifications should be included in any therapeutic approach to PANS/PANDAS.
Brain Detoxification Pathways – Keys to Healing an Inflamed Brain
Tom Moorcroft, DO
The glymphatic system cleanses the brain. Key aspects of this system can be impacted by infection-induced autoimmune encephalitis. A basic knowledge of how this system functions and how it is disrupted in disease gives us insights into how we can cleanse and heal an inflamed central nervous system and, ultimately, improve healing from many brain disorders, including infection-induced autoimmune encephalitis.
POTS & PANS: A Review of Autoimmune Neuropsychiatric Syndromes and Associated Dysautonomia
Nancy O'Hara, Md, MPH
PANS, is a common autoimmune disorder with far-reaching movement, behavioral, and cognitive consequences. While OCD and tics are still common, other issues like anxiety, bedtime fears, inability to control urination, aggression, and deficits in learning, attention, and social interaction are among the many manifestations that result from PANDAS/PANS and impair the daily functioning and cognitive progress for many children. Not only Strep, but Lyme, Viruses, Mycoplasma and other triggers can lead to AE (Autoimmune Encephalitis). AE and PANDAS/PANS can also lead to significant dysautonomia, including POTS (Postural Orthostatic Tachycardia Syndrome). Heightened clinical suspicion and more appropriate and comprehensive treatment for both disorders with antibiotics and immune-modulating therapy will transform these devastating illnesses into treatable disorders.
The Dirt Cure
Maya Shetreat-Klein, MD
Chronic illness has become the new normal for children. Dr. Maya, the author of The Dirt Cure, was a conventionally-trained pediatric neurologist who discovered that in 10 years of medical training, she never learned very much about healing. She went on a journey of discovery, dedicating herself to healing the very sickest children through exposure to DIRT: microbes, fresh food from healthy soil, and time in nature.
Homotoxicology and its Role in Healing: Autism, Lyme, PANS/PANDAS, and the New Epidemic of Childhood Diseases
Lauren Lee Stone, PhD, MS, HHP, BCIH
Homotoxicology is a healing modality, which combines classical homeopathic principles, with mainstream, allopathic therapeutics.  Based on the premise that the body has an innate ability to heal, homotoxicolgy treats disease as a function of toxic overload. 
---
speaker Profiles
Dr. Capanna-Hodge, LPC, BCN
Dr. Roseann Capanna-Hodge is a Connecticut Certified School Psychologist, a Licensed Professional Counselor (LPC) and a Board Certified Neurofeedback Provider (BCN), with more than 20 years working with children, teens, adults and parents. She answered her calling to be a psychologist, and currently has private practice offices in Ridgefield and Newtown, CT, where the focus is on Neurofeedback, Biofeedback, Counseling and Assessment for a variety of issues and conditions. After seeing individuals and families suffer through unsuccessful attempts at traditional therapies, Dr. Roseann became passionate about using highly effective research-based, non-medication and brain-based therapies to alleviate stress and suffering, bringing children and adults to a point of wellness. She bridges neuroscience with holistic therapies in her wellness clinic. Dr. Roseann is a well-respected BCN Practitioner who is a popular and sought after speaker. She is an expert in several areas including: Anxiety and Anxiety-Related Disorders, ADHD, Executive Functioning, Dyslexia and other Reading Disabilities, Learning Disabilities, Lyme Disease, PANS/PANDAS, Concussion/Post-Concussion Syndrome and Parenting Coaching. Dr. Roseann serves on the boards of the Northeast Regional Biofeedback Society and Epidemic Answers, and is a Lyme Connection Task Force Professional Advisor.
---
Vicki Kobliner, MS RN, CD-N
Vicki Kobliner, MS RDN, CD-N is a Registered Dietitian Nutritionist and owner of Holcare Nutrition. She received her Bachelor's degree from Washington University in St. Louis and graduated with high honors from Oregon State University with a Master's degree in Food and Nutrition. She is a contributing author to two books: A Compromised Generation: The Epidemic of Chronic Illness in Americas Children, and Essential Remedies for Women's Health. Vicki sits on the professional advisory board of the Neurological Health Foundation, and Epidemic Answers. She is a member of the Connecticut PANDAS/PANS Legislative Advisory Council. She has lectured nationally and internationally about the role of nutrition in autism and related disorders and has lectured frequently for the Autism Research Institute and the Medical Academy of Pediatric Special Needs. Vicki's practice employs a functional nutrition approach, using natural agents to help the body heal itself. Vicki works with infants, through adults with chronic illnesses, digestive disorders, food allergies, ADHD and autism and provides fertility and prenatal nutrition counseling.
---
Dr. Tom Moorcroft, DO
Tom Moorcroft, DO did his undergraduate studies at the University of Vermont before attending the University of New England College of Osteopathic Medicine (UNECOM). While at UNECOM, Tom was selected to complete a one-year fellowship in Osteopathic Manipulative Medicine. Tom completed his residency training in Family Medicine at Middlesex Hospital in Middletown, CT. Dr. Tom is board certified in Family Medicine and Osteopathic Manipulative Treatment. He deeply believes that the true source of radiant health is within each of us. Dr. Tom serves on the Teaching Faculty of the Osteopathic Cranial Academy (OCA). He has been awarded Recognition of Proficiency in Osteopathy in the Cranial Field. Dr. Tom serves on the OCA board of directors as well as on several OCA committees. Dr. Tom has served on the Board of Directors and continues to serve on several committees of the International Lyme and Associated Diseases Society (ILADS). Dr. Tom serves on the CT State PANDAS/PANS Advisory Council. Dr. Tom lectures extensively on Osteopathic philosophy and treatment, Lyme disease and other chronic infections, pediatric tick-borne illnesses, integrative medicine and nutritional approaches to healing.
---
Dr. Nancy O'Hara, MD, MPH
Dr. Nancy O'Hara is a board certified Pediatrician. Prior to her medical career, Dr. O'Hara taught children with autism. She graduated with highest honors from Bryn Mawr College and as a member of the Alpha Omega Alpha Honor Society from the University of Pennsylvania School of Medicine. She earned a Master's degree in Public Health from the University of Pittsburgh. After residency, chief residency and general pediatric fellowship at the University of Pittsburgh, Dr. O' Hara entered general private practice in 1993, and in 1998 began her consultative, integrative practice solely for children with special needs. Since 1999 she has dedicated her practice to the integrative and holistic care of children with neurodevelopment disorders, ADHD, PANDAS/PANS, OCD, Lyme and Autistic Spectrum Disorder at the Center for Integrative Health, where she is a partner. She is also a leader in the training of clinicians, both in the United States and abroad.
---
Dr. Maya Shetreat-Klein, MD
Maya Shetreat-Klein, MD is a neurologist, herbalist, urban farmer, and author of The Dirt Cure: Healthy Food, Healthy Gut, Happy Child (Simon and Schuster, 2016), which has been translated into ten languages. She has been featured in the New York Times, The Telegraph, NPR, Sky News, The Dr. Oz Show and many more. Board certified in adult and child neurology as well as pediatrics, Dr. Maya completed the University of Arizona's Fellowship in Integrative Medicine, and now serves on their faculty. She works and studies with indigenous communities and healers in Ecuador. In her book and her practice, she offers an integrative and spiritual approach to allow moving beyond chronic health problems in children and adults. She also founded the Terrain Institute, where she teaches Terrain Medicine™, an earth-based program for transformational healing.
---
Lauren Lee Stone, PhD, MS, HHP, BCIH
Lauren came to BioEnergetic Medicine in the search to heal her own children, and chose to make it her career after experiencing its success first hand. In addition to a B.A. from Yale University and a Ph. D. from Cornell University, Lauren has a Masters in Human Nutrition from the University of Bridgeport. She also holds an advanced certificate in BioSET, Quantum Reflex Analysis, and is a Board Certified Holistic Health Practitioner, a Board Certified Integrative Health Practitioner, a board member of Epidemic Answers and a distinguished member of the American Association of Integrative Medicine.