NEPANS supports efforts of other organizations & individuals in their efforts to spread PANS/PANDAS Education and Awareness.
If you have an event whether it be small or large, please look to NEPANS for sponsorship and/or outreach opportunities. Contact NEPANS today! NEPANS supports our community by offering materials for you to use! Does your school have a resource fair? Do your teachers want to learn more about PANS/PANDAS? Does your Special Education PTO want to learn more about PANS/PANDAS? Will your school post Awareness Posters in the lobby and halls during PANDAS Awareness Day? If yes, we can help you!
---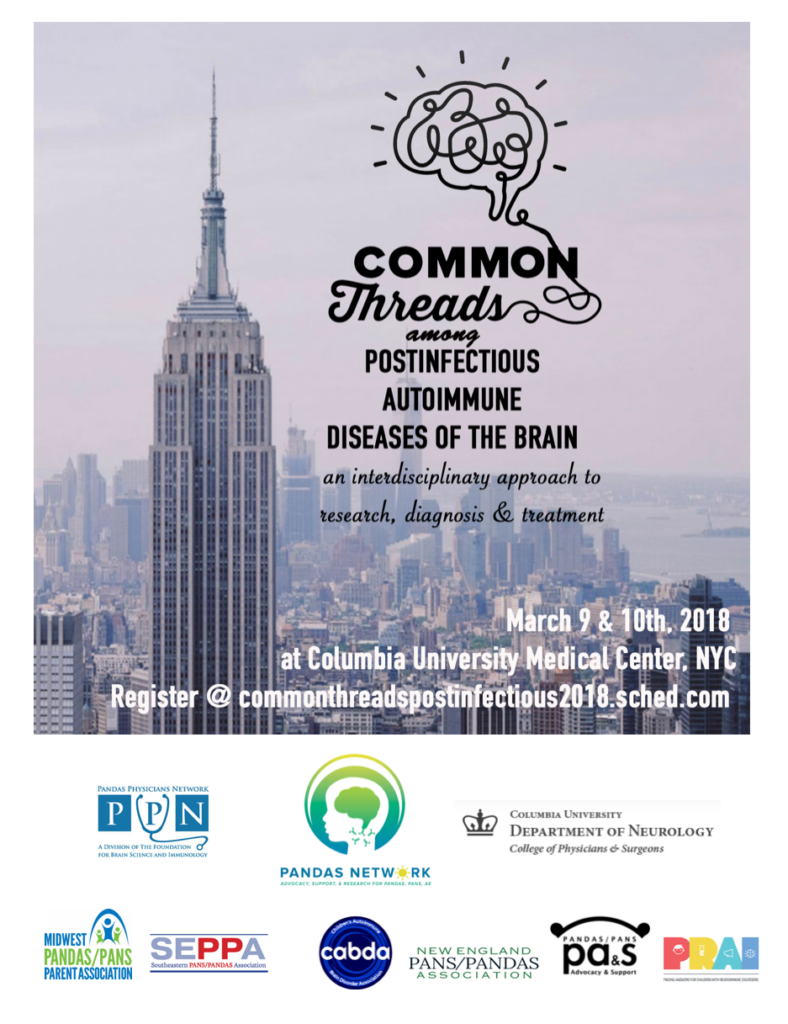 PANDAS Network Common Threads Conference

MARCH 9 & 10, 2018
COLUMBIA UNIVERSITY MEDICAL CENTER, NEW YORK CITY
---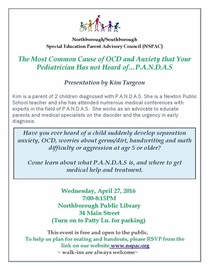 NSPAC Parent Meeting– 2016

Kim Turgeon, a PANDAS parent, school teacher and advocate organized a wonderful event with Northborough/Southborough Special Education Parent Advisory Council (NSPAC) on PANDAS: The Most Common Cause of OCD and Anxiety that your Pediatrician has not heard of.
---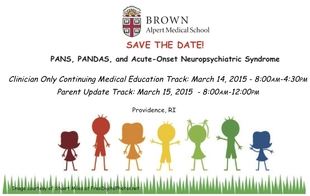 Warren Alpert Medical School-Brown University Parent Update
NEPANS partially funded the event. There were over 200 caregivers and doctors in attendance.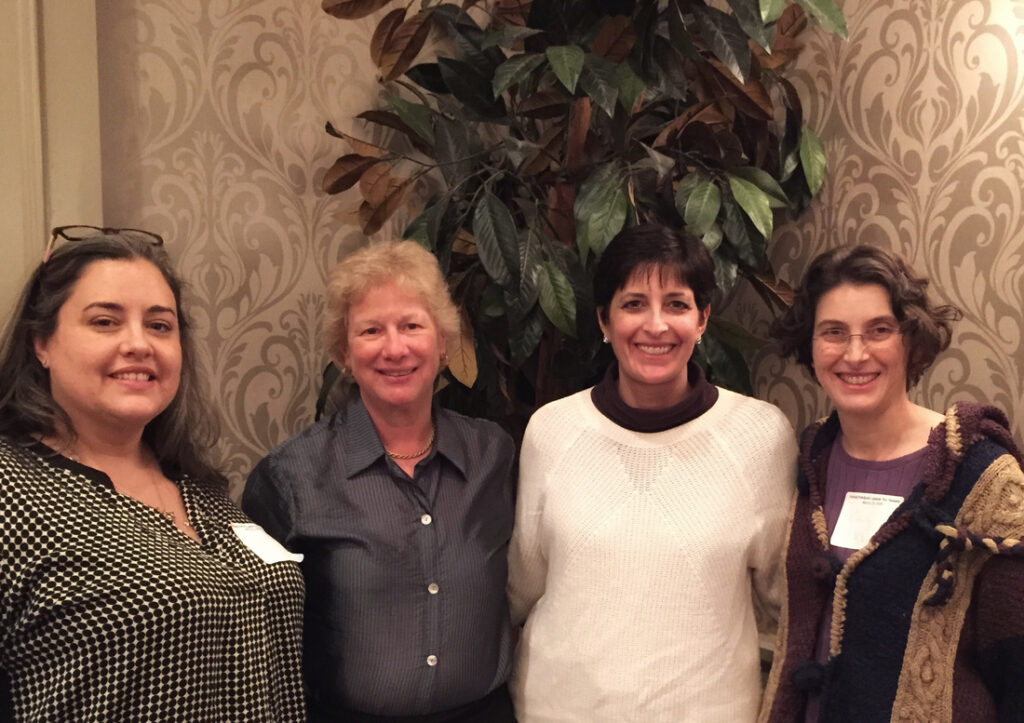 Parent Update Conference on PANS, PANDAS, Acute-Onset Neuropsychiatric Syndromes
Office of Continuing Medical Education
March 15, 2015
Program Description:
Expert faculty from the PANS, PANDAS, and Acute-Onset Neuropsychiatric Syndromes Warren Alpert Medical School of Brown University CME Conference hosted a conference for parents. Topics discussed included new research results, potential therapies and treatment recommendations, diagnosis, assessment, and co-morbid conditions.
Expert Faculty:
Madeleine W. Cunningham, PhD
Mady Hornig, MA, MD
Louise S. Kiessling, MD, FAAP
Tanya K. Murphy, MD, MS
Susan E. Swedo, MD
Kyle A. Williams, MD

Recap Notes:
These notes are a rough recap of the conference. Overall the panel expressed a solid consensus of the PANS criteria and feel confident about its parameters. All agreed that strep is not just in the throat but hides in the nose, lower nodes and the perinea area. Vaccines, flu included, should still be given but one should expect flares to happen as a result.

Susan E. Swedo, MD
Tics were not included in the PANS criteria because the neurologists in the consortium disagreed that it should be.
Prophylactic antibiotics are necessary.
Acute vs Chronic. PANS has an acute onset and WAXES AND wanes. It is not chronic. Separation anxiety is extreme and obsessive. You must have at least two other symptoms but most have four or five.
Executive problems often linger even after IVIG. She referred to that as, "residue cognitive" issues.
If you are potty trained and have urinary issues, you should immediately get tested for strep.
Madeleine Cunningham, PhD
The Cunningham Panel indicates that there are patterns within the panel that link to sets of symptoms like ticks, OCD, etc.
Kyle Williams, MD
The study he is conducting is not complete. However IVIG is proving to be helpful. Reiterated that IVIG should be done one, "One and Done"
Mady Hornig, MD
She is investigating gut health and biomes.
Azithromycin lowers a specific inflammatory marker.
Jenny Frankovich, MD
PANS is waxing and waning like MS.
Plasmaphersis is needed for some patients
Arthritis/anti-inflammatory meds are often needed as well and people often need them long term or risk psychosis.
Need prophylactic antibiotics but viruses can be a factor too.
Louise S. Kiessling, MD, FAAP
Lyme is definitely a problem many patients up in the North East as it is triggering some PANS cases.
Vitamin D has antibacterial properties so should be used
Vitamin C is needed as well.
Michael Cooperstock, MD
Some pysch meds were originally developed as antibacterials.
Ibuprofen and Aleve are needed regularly but one must monitor the patient's stomach health. You can pulse them
Tonsillectomy and Adenoid removal can be necessary and beneficial.
Cexadroxil works on strep as is not strep resistant and only need to take it once a day. It can be effective. He wasn't certain what it does to gut health.
Tanya Murphy, MD
Vitamin D and Vitamin C are both needed
Don't hold back on the big, strong antibiotics
Extremely low doses of psychiatric meds can help. Clonazapan can help with sleep.
Doctors & Healthcare Providers Conference
March 14, 2015
Warren Alpert Medical School – Brown University
Office of Continuing Medical Education
CME Conference on PANS, PANDAS,
Acute-Onset Neuropsychiatric Syndromes
Program Description:
There is increasing evidence for the role of infection as a trigger for illness e.g. helicobacter pylori and ulcers. Since the late 1980's, researches have identified infectious triggers they believe lead to rapid onset cases of OCD and tic disorders-now a widely accepted consensus. Through his Director's Post in August 2010, the Director of the National Institutes of Mental Health, Thomas Insel, MD supported these concepts in "Microbes and Mental Illness" (http://www.nimh.nih.gov/about/director/index-ocd.shtml). He also pointed to the history and added research in a 2012 post "From Paresis to PANDAS and PANS". These neuropsychiatric disorders have been widely under-recognized. The role of this conference is to increase provider awareness, understanding and recognition of appropriate cases"

Speakers:
Michael Cooperstock, MD
Madeleine Cunningham, PhD
Jenny Frankovich, MD
Christine J. Harling-Berg, PhD
Mady Hornig, MD
Louise S. Kiessling, MD, FAAP
Paul Knopf, PhD
James Leckman, MD
Tanya Murphy, MD
Susan E. Swedo, MD
Kyle Williams, MD
Xiangping Zhou, MD