PANS/PANDAS DIagnosis & testing
Treatment guidelines developed by the PANS/PANDAS Research Consortium are now available in the Journal of Child and Adolescent Psychopharmacology. The guidelines address:
Psychiatric medications and behavioral interventions

Antimicrobials

Anti-inflammatory and immunomodulating therapies.
"Treatment of PANS involves a three-pronged approach that utilizes psychiatric medications when appropriate to provide symptomatic relief, antibiotics to eliminate the source of neuroinflammation, and anti-inflammatory and immune modulating therapies to treat disturbances of the immune system. The specific elements chosen for a child's treatment regimen are influenced by results of the physical examination and laboratory testing, as well as by the course and severity of PANS symptomatology."


*Reference: "Overview of Treatment of PANS" Swedo, S., Frankovich, J., Murphy, T. – JCAP Vol27, #7, 2017
Each patient's treatment protocol is influenced by physical examination, laboratory testing and by the course and severity of PANS symptomatology.
Infections must be treated fully; symptoms often begin to improve within one week of antibiotic treatment. However, further interventions are often required to fully heal the underlying causes and alleviate all the symptoms. If treated promptly and thoroughly, symptoms can remit completely. If left untreated and symptoms persist, permanent neurological injury can occur
Set protocol has not been established but often comprised of one or more of the following treatments:
14-day course of B-Lactam Antibiotics
Consider 5-15 days of Prednisone
Consider IVIG or PEX
Consider continued full dose or prophylactic dose of antibiotics
CBT and/or counseling for residual OCD
Psychotropic medications can be considered if appropriate. Initial dose must but an extremely low amount with a very gradual taper up as needed to avoid activation, agitation, akathisia, and other adverse effects of the drugs.
Other Treatment Options:
Antifungals
Anti-Inflammatories
Antihistamines (H1 & H2 Blockers)
Extremely low dose SSRIs, increasing slowly
Tonsillectomy and Adenoidectomy
​IVIG, Plasmaphoresis
Dietary Changes
Vitamin D3, Omegas, etc.
Even if the PANS patient shows no obvious signs of infection at diagnosis, a course of antibiotics for strep is suggested.
Patients should be monitored and treated for subsequent infections, including but not limited to the flu and sinus infections.
Family members and close contacts should be swabbed for strep even if asymptomatic at the time of patient's initial diagnosis and during exacerbations and treated if positive.
PANDAS patients with severe symptoms or recurring strep infections may require prophylactic doses of antibiotics to mitigate risk of neuronal injury.
*Reference: Clinical Management of Pediatric Acute-Onset Neuropsychiatric Syndrome: Part III—Treatment and Prevention of Infections – JCAP Vol27, #7, 2017 – Cooperstock, MD, MPH, Swedo, MD, Pasternack, MD, Murphy, MD
BEFORE & After Pans: Examples-Visual, Behavioral & Academic cues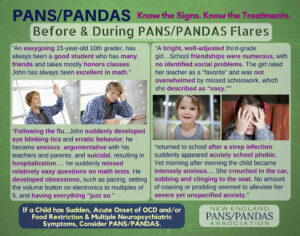 It is not always easy to identify if a child has PANS/PANDAS. Knowing the PANS Diagnostic Criteria is a good place to start, but it's really to consider the whole picture of what's happening with a child.  It often takes a collaborative effort (from families, doctors, schools, etc.) to identify a child with PANS/PANDAS.
The school picture is an essential part of the entire story. There are no set guidelines for supports and accommodations for students with PANS/PANDAS within the school setting. PANS/PANDAS is not a "one size fits all" medical condition therefore individualized support is required. Most students with PANS/PANDAS are eligible for accommodations and supports under a 504 plan if the medical condition substantially hinders the student's ability to participate and manage the education curriculum. Individualized Education Plans (IEPs), under the Individuals with Disabilities Act (IDEA), are required for some students with PANS if special education and/or special services are warranted. Every child with PANS/PANDAS has different severity of symptoms and dissimilar symptoms from one student to the next. For most, school is difficult and requires appropriate accommodations and supports.  Some children are too sick to attend school and will require home bound instruction.
*For more information and school-related resources, click here. 
Behavioral Regression, a PANS/PANDAS symptom, is shown here by a patient.  You can see the marked difference between the self-portrait during a PANS flare with regression as a symptom and the self-portrait while the child was healing.
Handwriting changes, correlate with an increase in neuropsychiatric symptoms. Prior to acute onset of Tics, the student was able to write neatly but after handwriting becomes almost illegible and not neatly placed on the paper.
The above two slides are from the NEPANS presentation: PANS/PANDAS IN THE SCHOOL SETTING: From Symptoms to Supports given to School Nurses and Educators.
The presentation is available in the School Resources section of our website.
Reference: PANDAS in the School Setting by Kathy O'Rourke, MA-School Nurse News-2003